Who else thinks finding bedding is one of the hardest things for their home to shop for??! RAISING HAND…
I am not exaggerating when I say that I have shopped and looked for over a year multiple times before I found or settled on some bedding for our master bedroom. IT IS A STRUGGLE!!! I feel like what we're looking for is not too crazy but it's been a major challenge.
So when Lush Decor reached out I was thrilled to check out their new curated collections I was thrilled.
If I'm being honest I really loved every single curated collection but I was focused on our bedroom and what would look best with our furniture, wall color, etc. and everything in the OLD HOUSE COTTAGE COASTAL CURATED COLLECTION just felt right.
I was still a little leery to see if the collection was as great as it looked online. We've all bought those beds in a bag and the quality is subpar.. But WOW.. the quality was far better than I expected and even my husband commented on how the comforter was the perfect weight, not too heavy but not too light either. It's soft and beautiful and was exactly what we needed in this space. We don't do bedding that is too light because of dogs so the wheat color was the perfect color for us but it comes in 11 different colors which is so awesome to fit so many different spaces.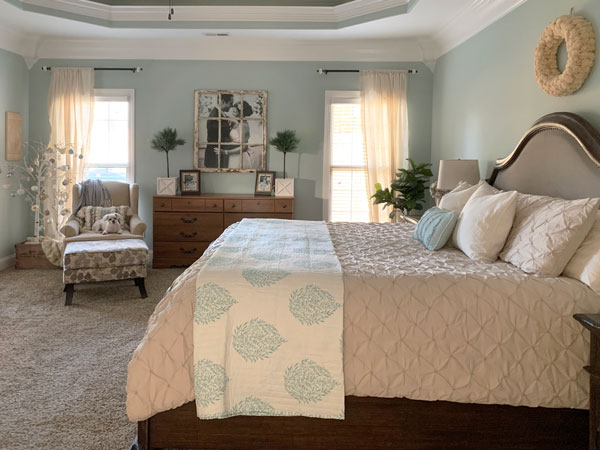 The quilt added the perfect little pop of coziness and color and pattern that the space really needed.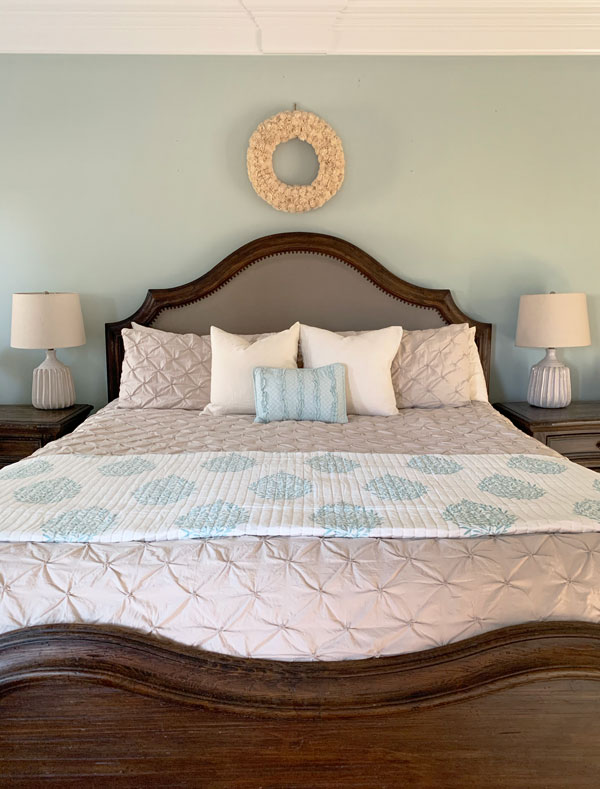 And can we talk about the curtains?! These are so gorgeous with the most beautiful crocheted edging detail. These come in 9 different colors but we chose Ivory to keep the space neutral and still feeling light and bright. (This refresh was done during the Christmas holiday if you are wondering why there is a tree!) 🙂
So these are the pieces we got and have had for the last 6 weeks and are sooooo so happy with the change! The collection is wonderful and quality is even better! And awesome news, you can get 20% off with the code HAMBYHOME20
This post is in partnership with Lush Decor but these are my honest opinions.
This post contains affiliate links and I may receive commissions for the purchase made through this link at no extra cost to you.