I hope you all had a nice holiday weekend! It's so hard to believe it's now June! But I am ready for summer and going to soak it all up as much as I can. Here's a little bit of what we've been up to this past week.
This post contains affiliate links for your shopping convenience. Click here to read my full disclosure policy.
Home Projects & Updates
I wrapped up a few more of my planters last week! I also finally bought our herbs for the season (basil, cilantro and rosemary). I only have our three planters left out front (waiting for the new ones to arrive later this week), and once I get those planted, I'll be done for the season! Famous last words 😉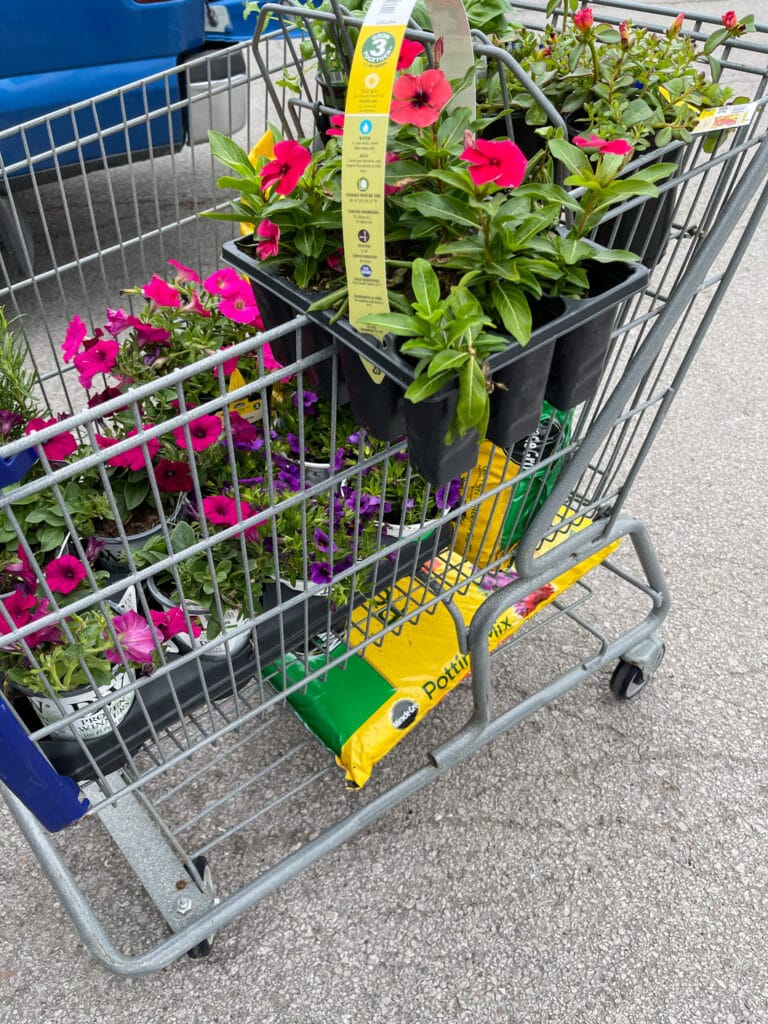 I'm about to be a very happy girl when these Incrediball hydrangeas fully bloom in our backyard. I'm guessing it could be yet this week!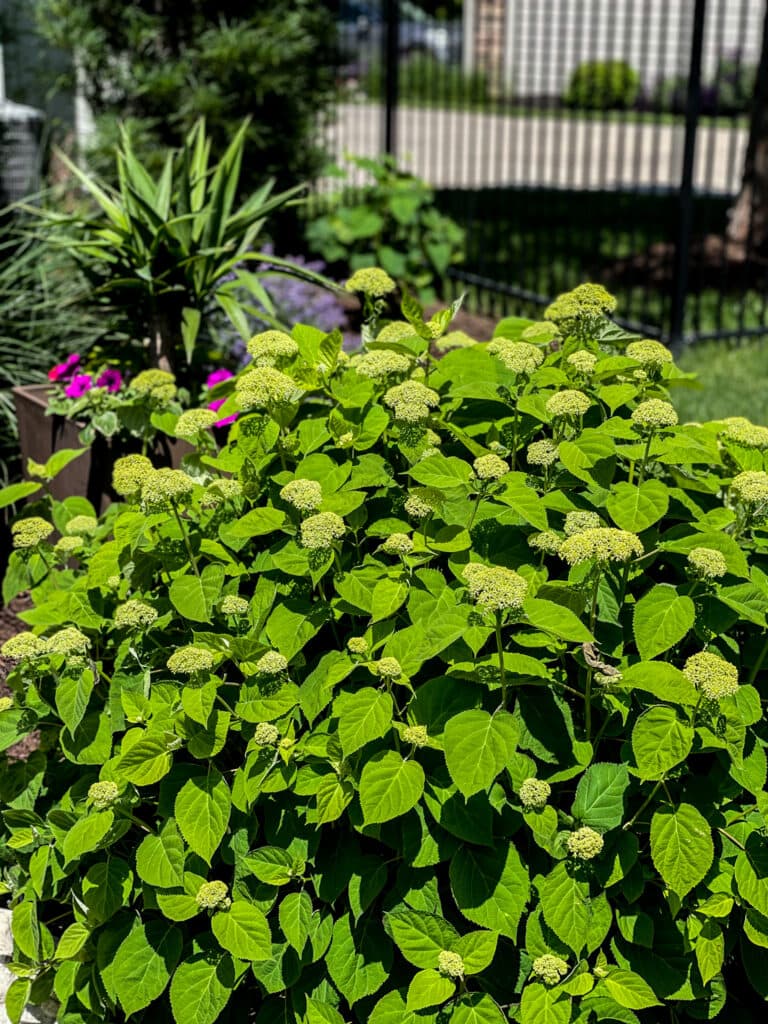 Kurtis tackled a lot of power-washing this weekend with our new power washer. Our old one was gas powered and was super bulky and not easy to use. This one is super compact and did an excellent job. It's always so funny when I think, "you can go ahead and wash xyz, but I'm not sure it's that dirty". And then you get to see just how dirty it is once the washing starts. It's so satisfying to watch! Side note: our power washer is on sale until 6/3 and if you're a new customer you can save an extra $20 off with code HSN2021!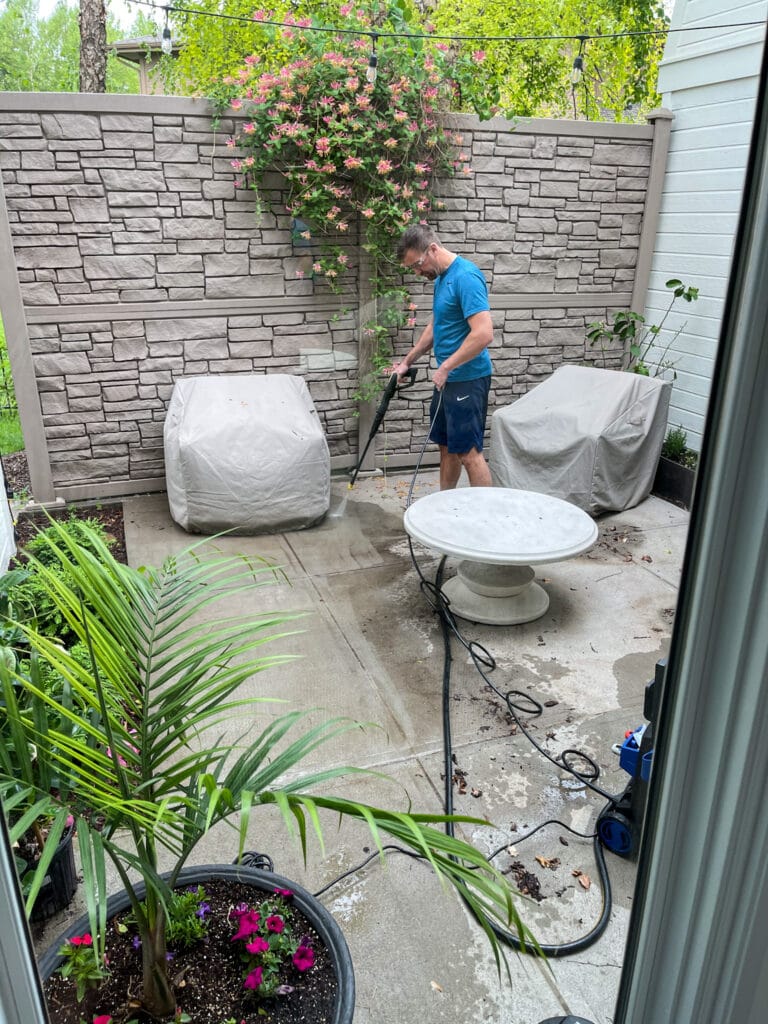 Little man was not impressed that he wasn't allowed to "help" with the project.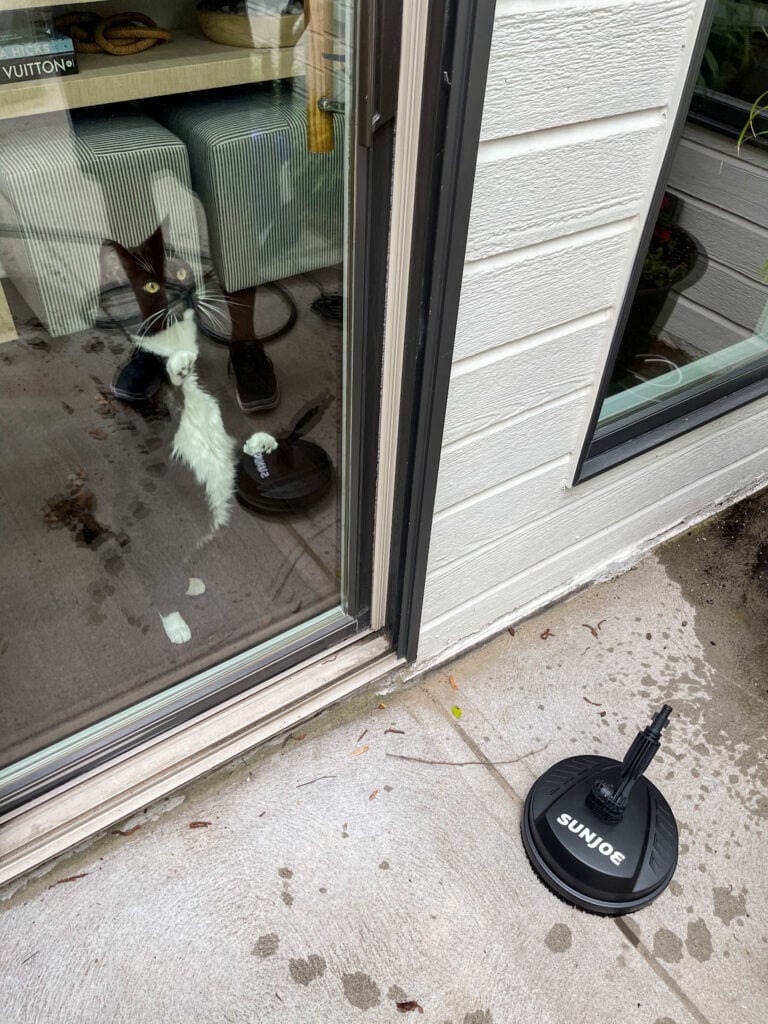 Sunday we tackled more projects around the house. Kurtis was supposed to be trimming some tree branches off our roofline, and I came out to find him power-washing the porch. I think he's addicted now that this one is so much easier to use. He was so proud that he even remembered to take a progress shot for me to share. Ha! Best blogger husband ever!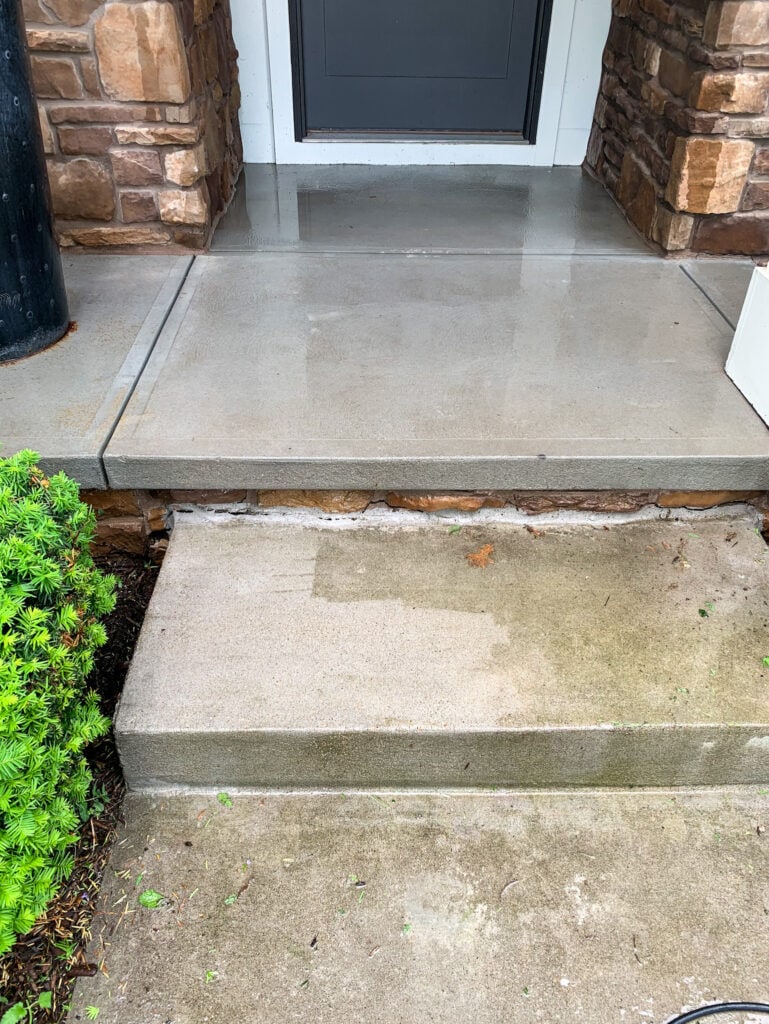 Tree trimming still occurred, but I supervised the portions that required a ladder. We have two giant oak trees pretty close to our house, and we're worried at some point, one is going to have to be removed. They keep growing into the roof, and it's starting to get past the point where we can manage it ourselves. We've had this pole saw for years, and love it! I actually use it on my own and it doesn't freak me out like a chainsaw would. We also love that it uses the same 20 volt batteries as our drills, leaf blowers, etc.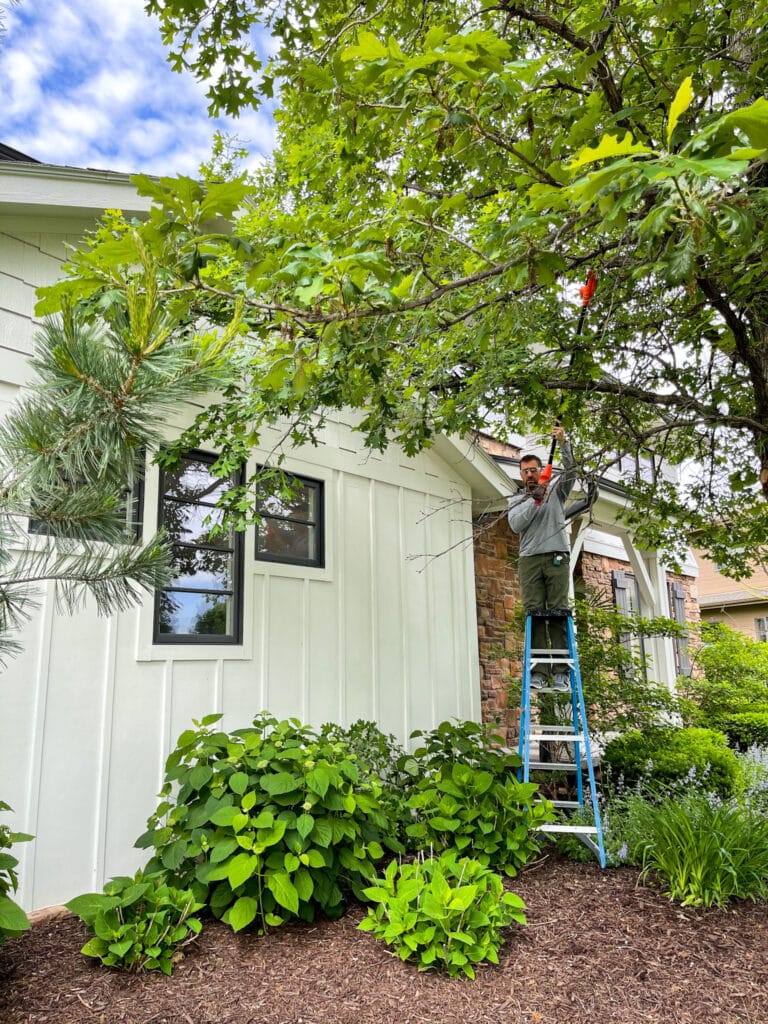 While he was outside, I worked on a project of my own. Once the pool house dig starts, the guys will need to be able to access our storage room to run the plumbing. Clearly, I had a little situation on my hands that needed to be addressed….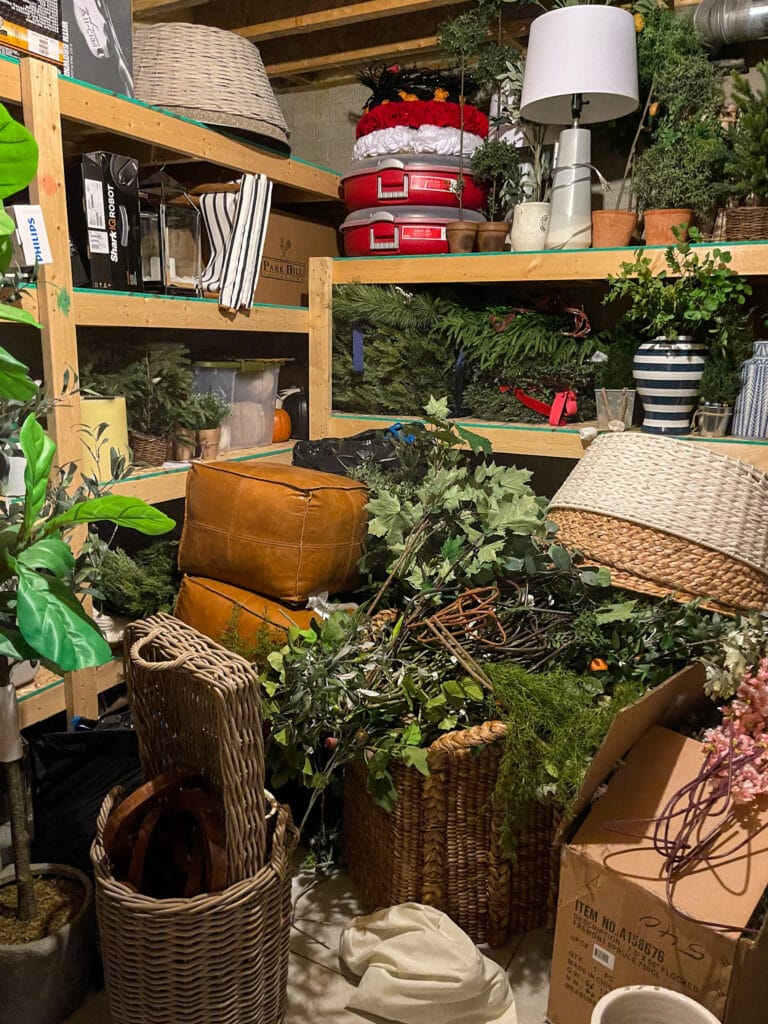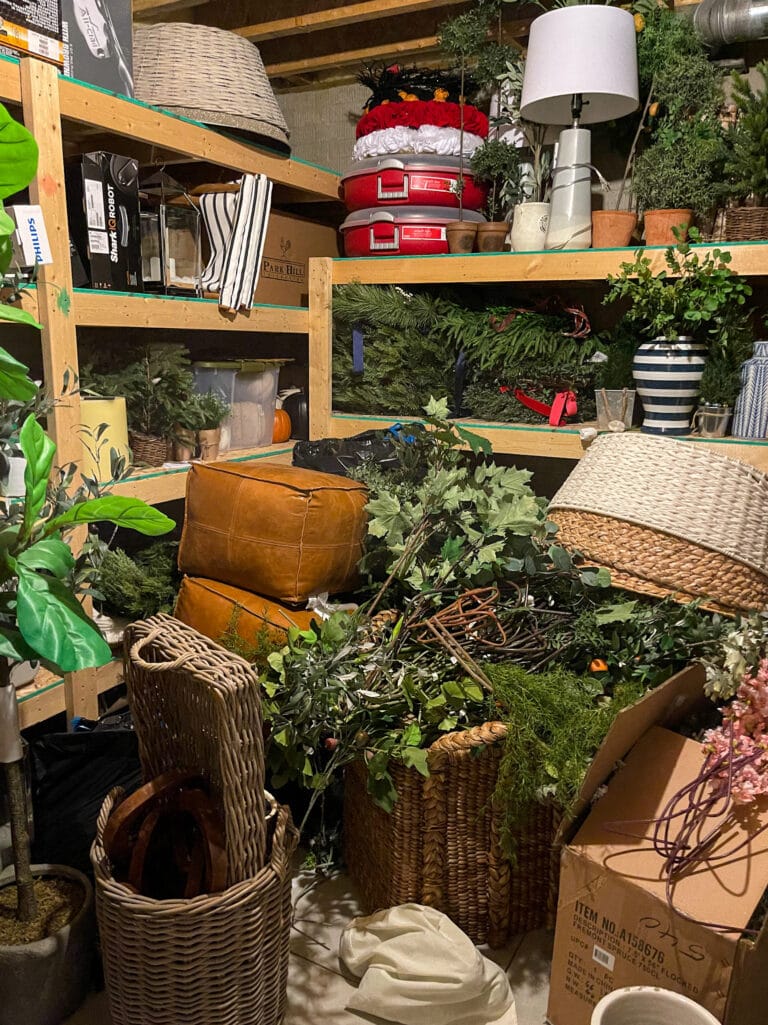 I obviously can't perform miracles, but at least you can walk in the space now and it should be a lot easier for me to move things around as needed when the guys require access. I still need a solution for all my greenery, but I'm really not sure one exists for this room, so the overflowing basket will have to do for now! I have a car full of donations ready to drop off today, so it feels good to tackle this project that was hanging over me!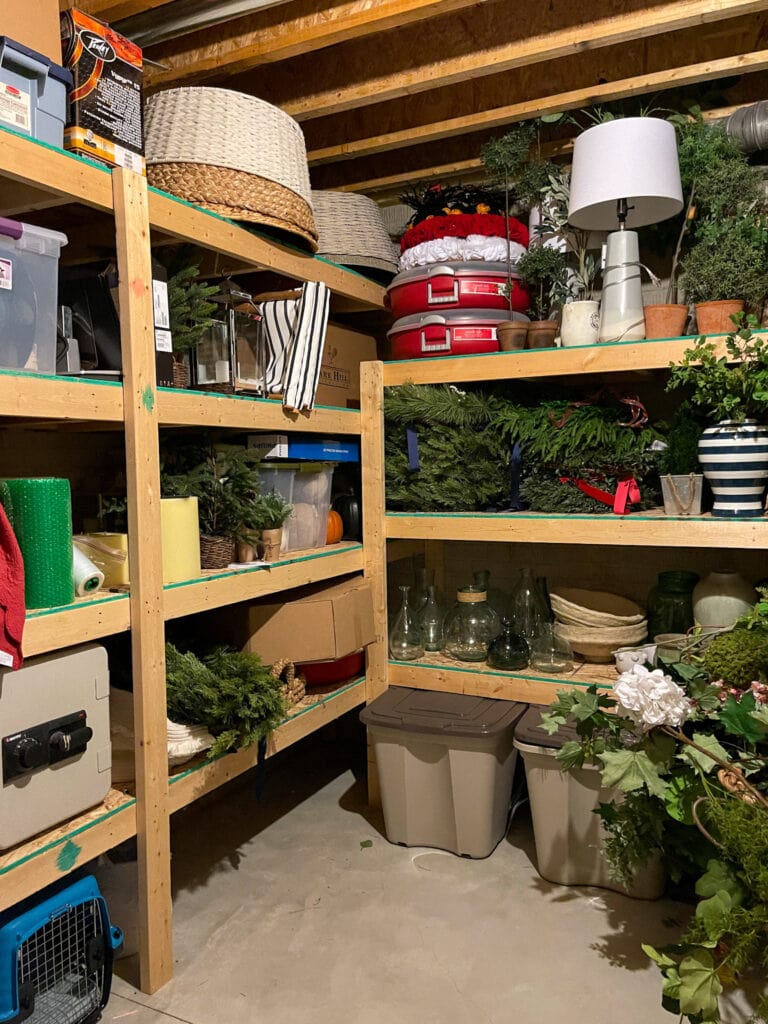 I actually found two boxes that were still taped shut from when we moved here eight years ago. When I read the label I remembered why. It was all the picture frames from the gallery wall below in our last stairwell. It was super fun to have to open every single frame and remove the photos before I could add the frames to the donation pile. No wonder it took me eight years!
I spent a lot of time last week in meetings for the pool house and out trying to finalize our finishes for the space. In big news – OUR PERMIT GOT APPROVED! And, the foundation might get poured NEXT WEEK! I'm a little excited if you can't tell 😉
I hit up Unique Stone Concepts in Omaha to look at potential countertop slabs. Since out countertop will hang outside, we have to use a naturally-occurring stone like granite or quartzite. We can't use quartz because it's not intended for the elements. The decision isn't an easy one, because I'm not naturally drawn to granite. I did, however, find some quartzites I liked. I just need to ensure they don't have too many fissures that would compromise the slab during fabrication. Do any of you have a light stone you love? I don't love a lot of contrast which is why I think I struggle with granite!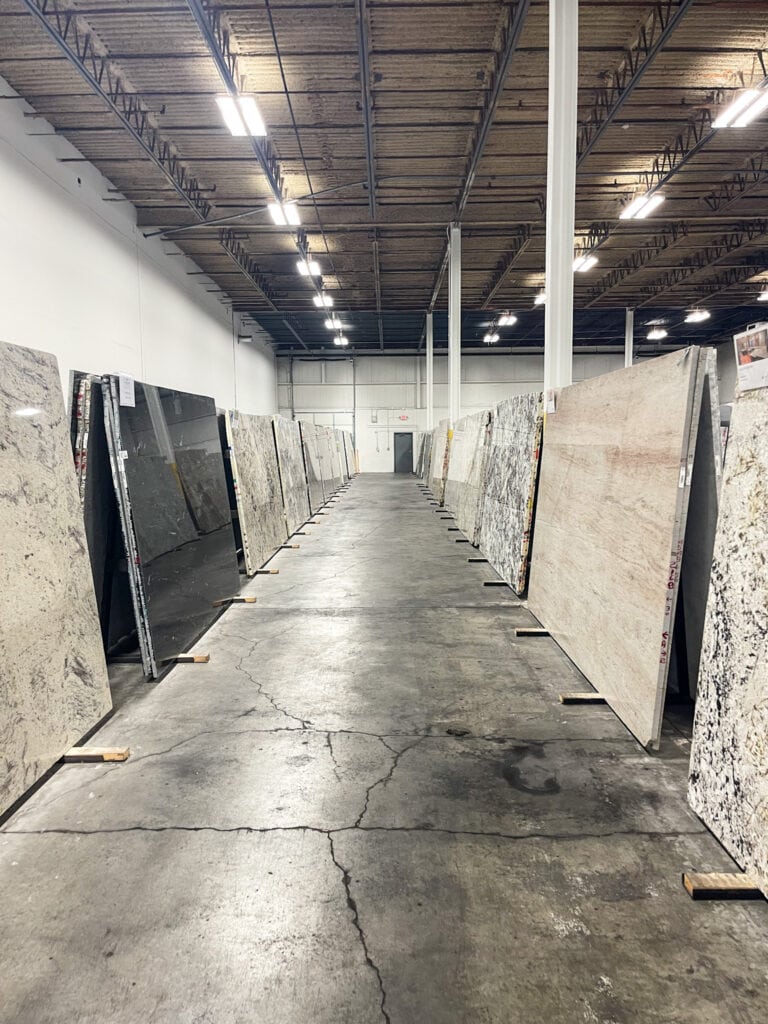 They did have this granite called Pitaya that I liked. Kurtis doesn't love the black spots on it though. Hoping I can get him to one of the yards this week so he can see a few more in person!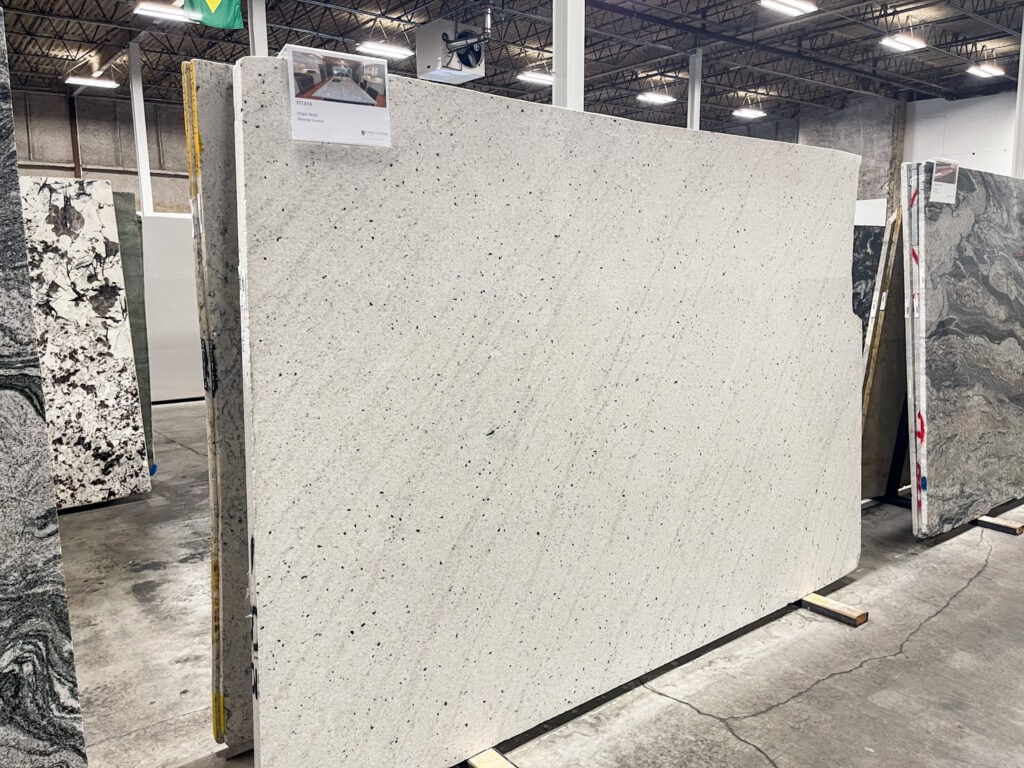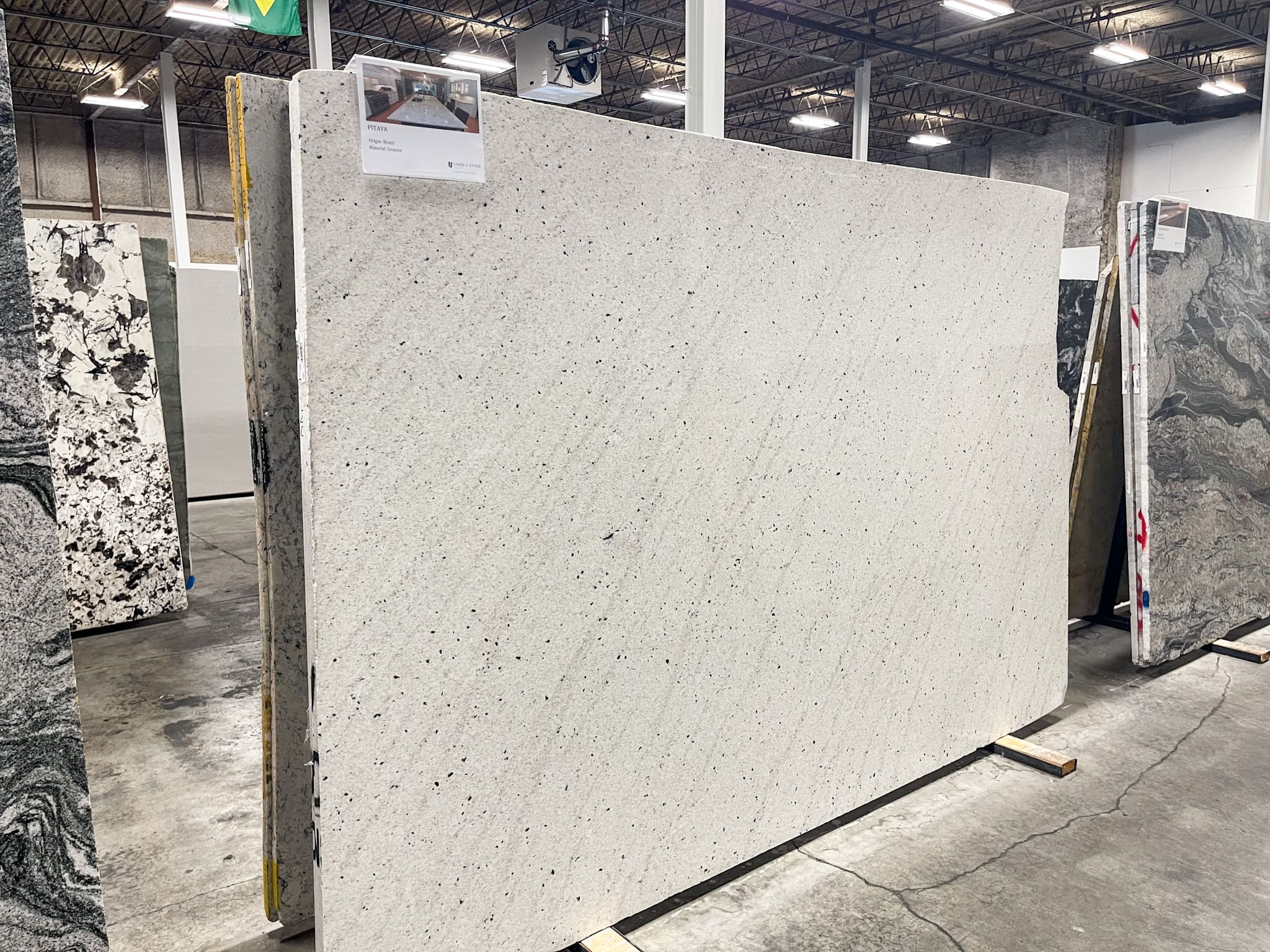 I actually filmed a walking tour of the future space, complete with snow plow markers, in my Instagram Stories if you're interested. I have all things related to the pool house on a highlight labeled as such if you want to watch it.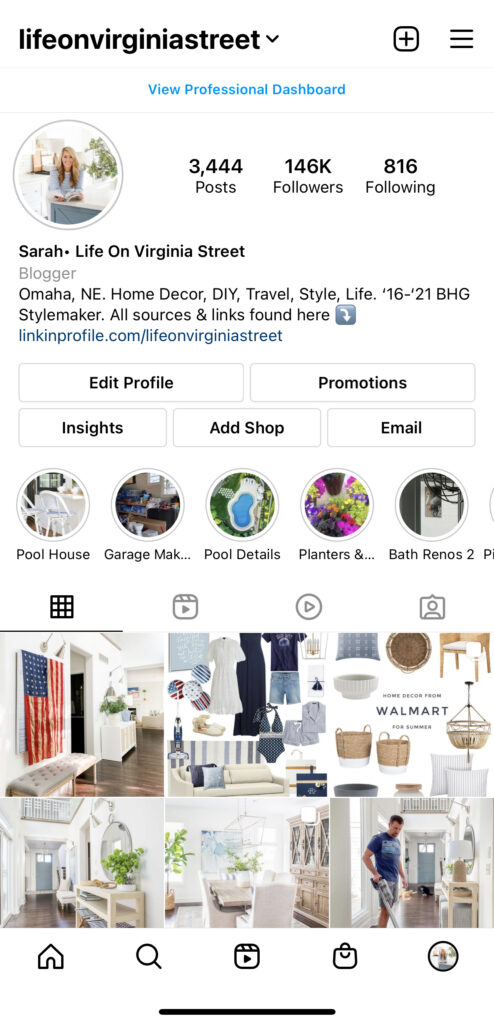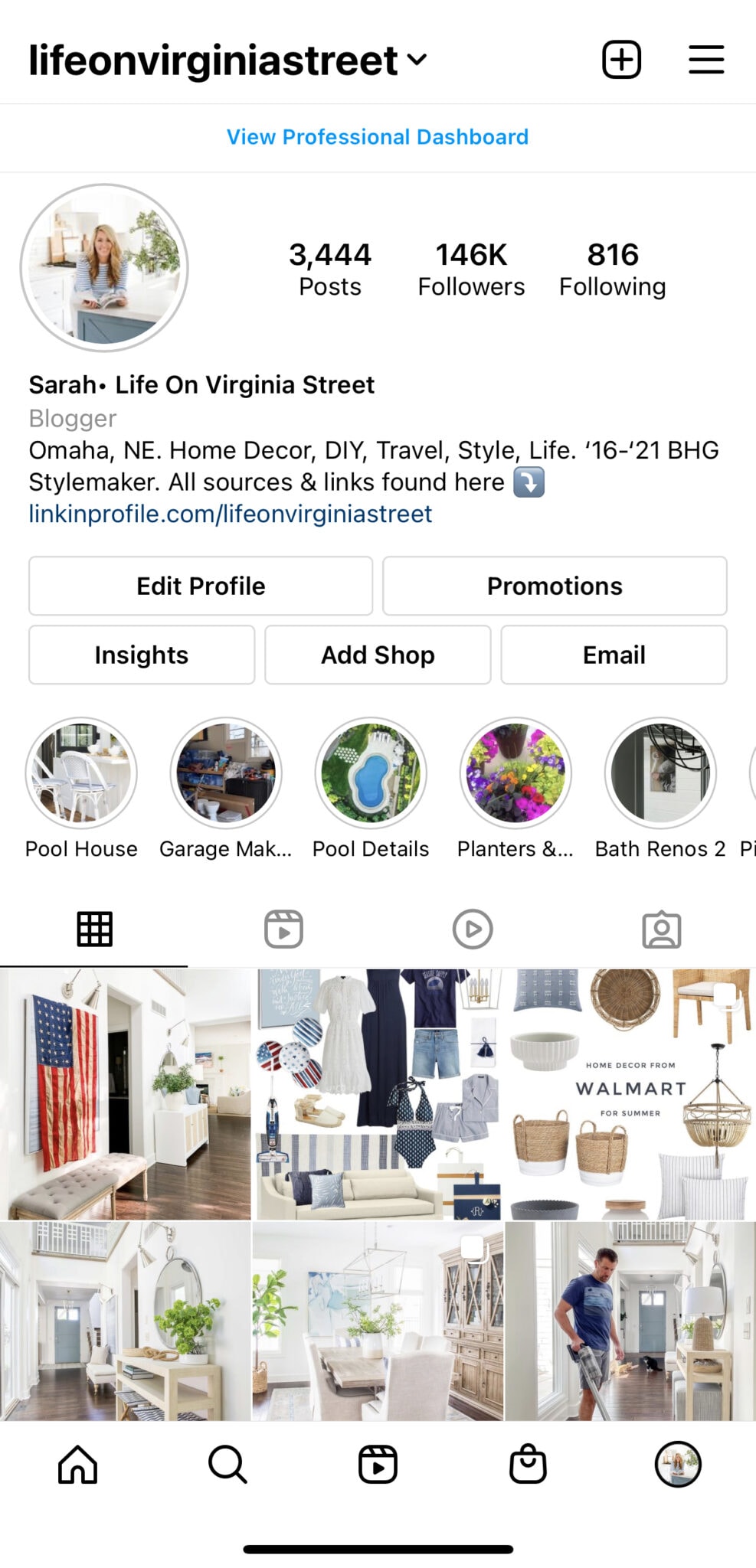 We're definitely feeling the pressure of crazy lead times right now so we had to make some last-minute changes to our plans. At this point, I'm guessing it will be September before things wrap up. But, we'll be so excited when it does!
Top Sellers Of The Week
Following are the top sellers of the past week across all of my channels. Links to each item are below the graphic.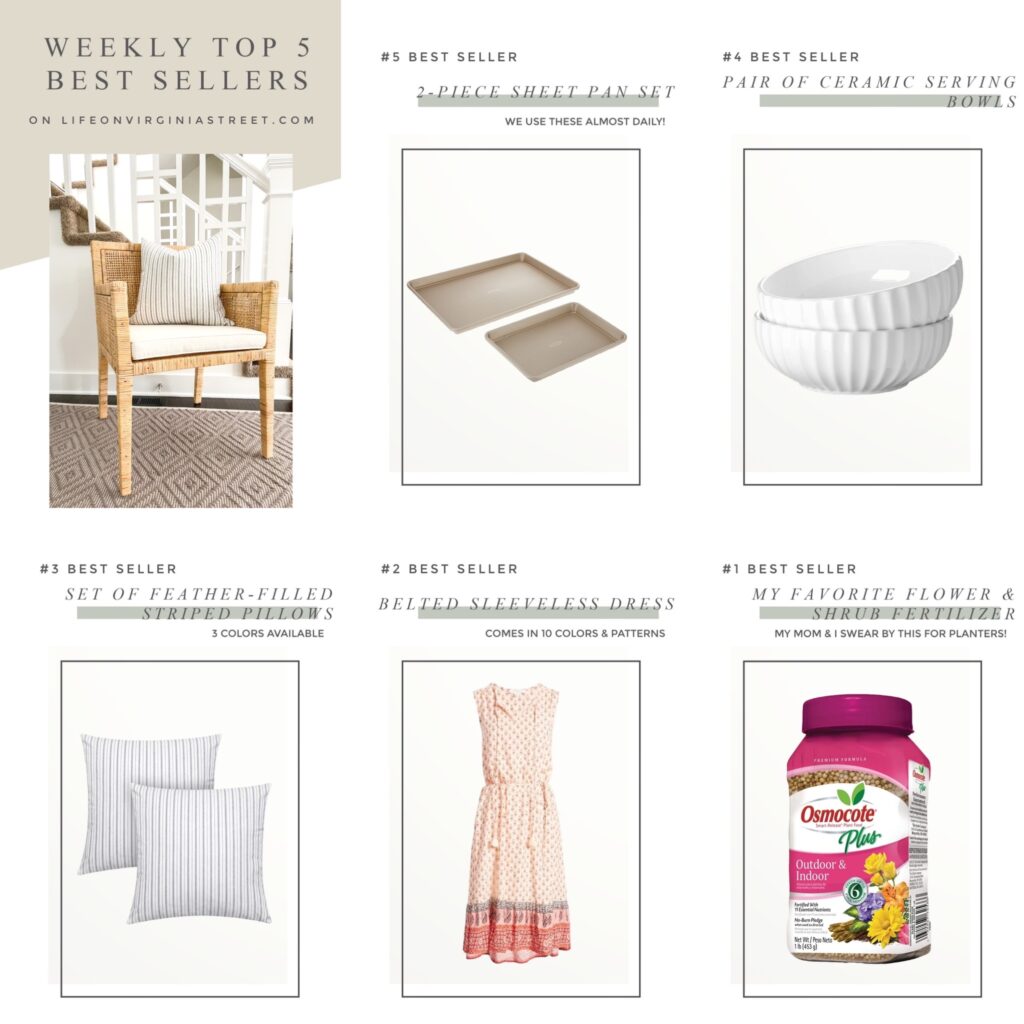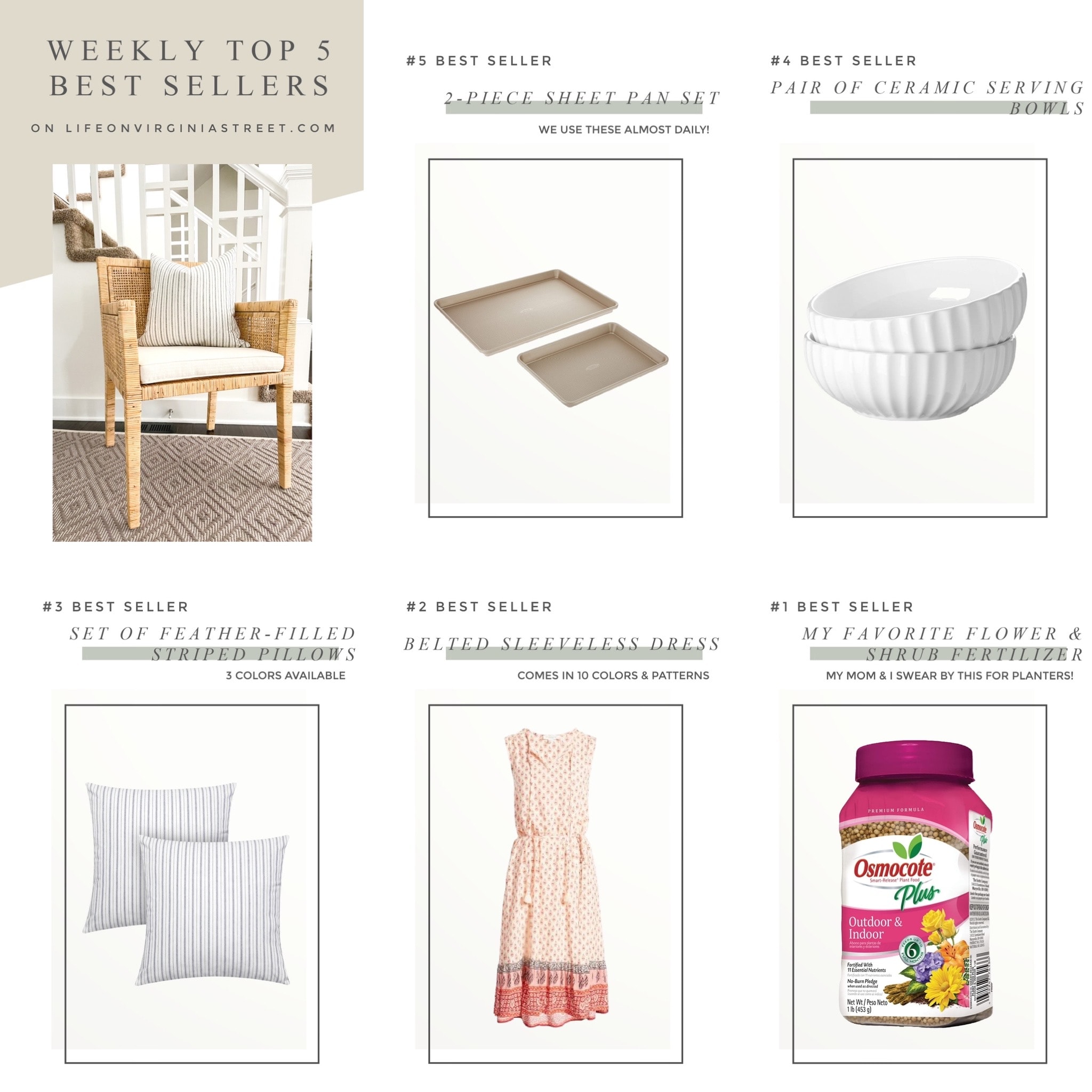 Around Town & For Fun
Friday night we went to the opposite of a house-warming party for Kurtis' sister and brother-in-law. House-cooling party? Not sure. But they'll be moving in about a month so they wanted to send off their home with the friends that helped them celebrate when they moved in. It was a lot of fun, and there were more laughs than I can count. And Shari – if you're reading this, I apologize that no photos from the party are making it into the post. Hopefully you'll still read here 😉
Saturday, I tried to take Kurtis to the stone yard so we could look at some of the slabs I had visited earlier in the week. Unfortunately they were closed, so we wrapped up appliances and the fireplace insert instead for the pool house. We then went out for oysters with our friends on Saturday night, followed by heading back to their house to see the girls. No one on earth is happier than Elle in her bounce seat. She was hysterical to watch!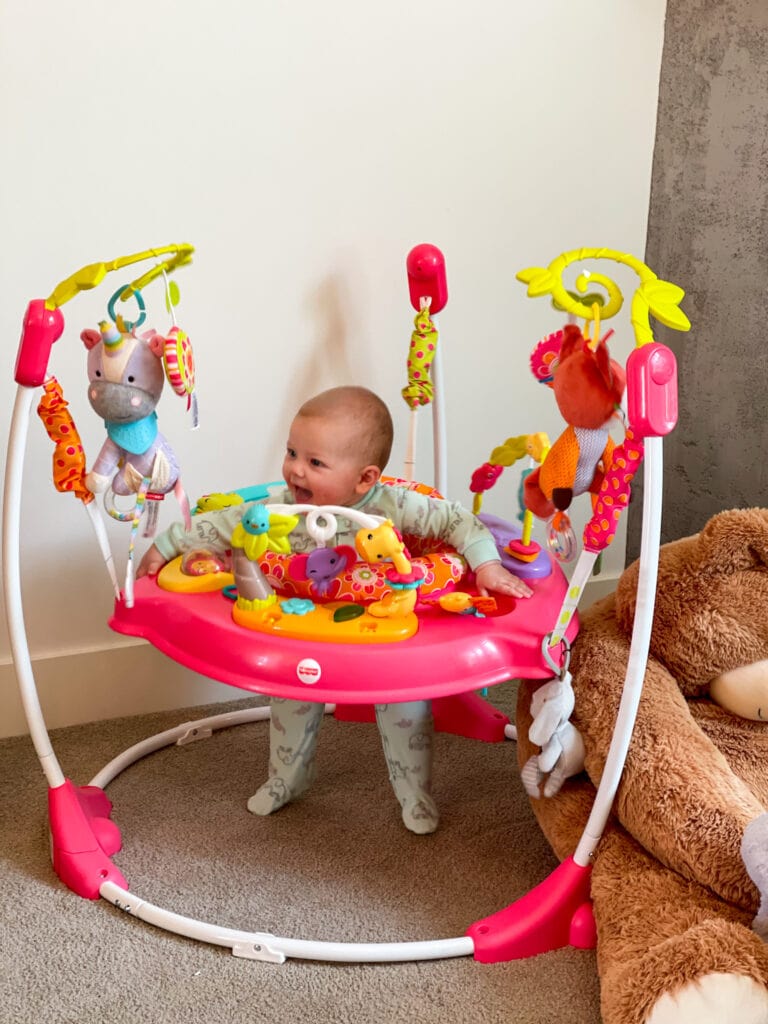 Although, Zoe was a close second on the happiness scale when I let her share my ice cream cone with me.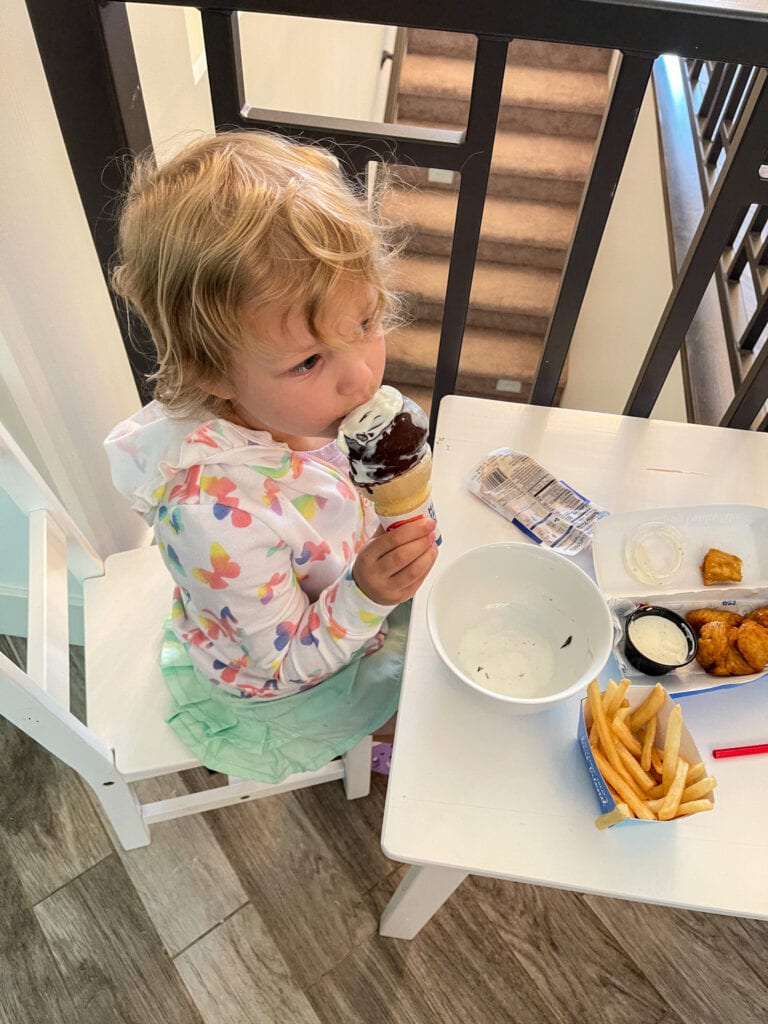 This little nugget spent 10 minutes trying to fit in this small box on Sunday morning. Kurtis and I couldn't stop laughing. She was so dang determined, and she finally got it to work! Even if the box was bowing quite a bit 😉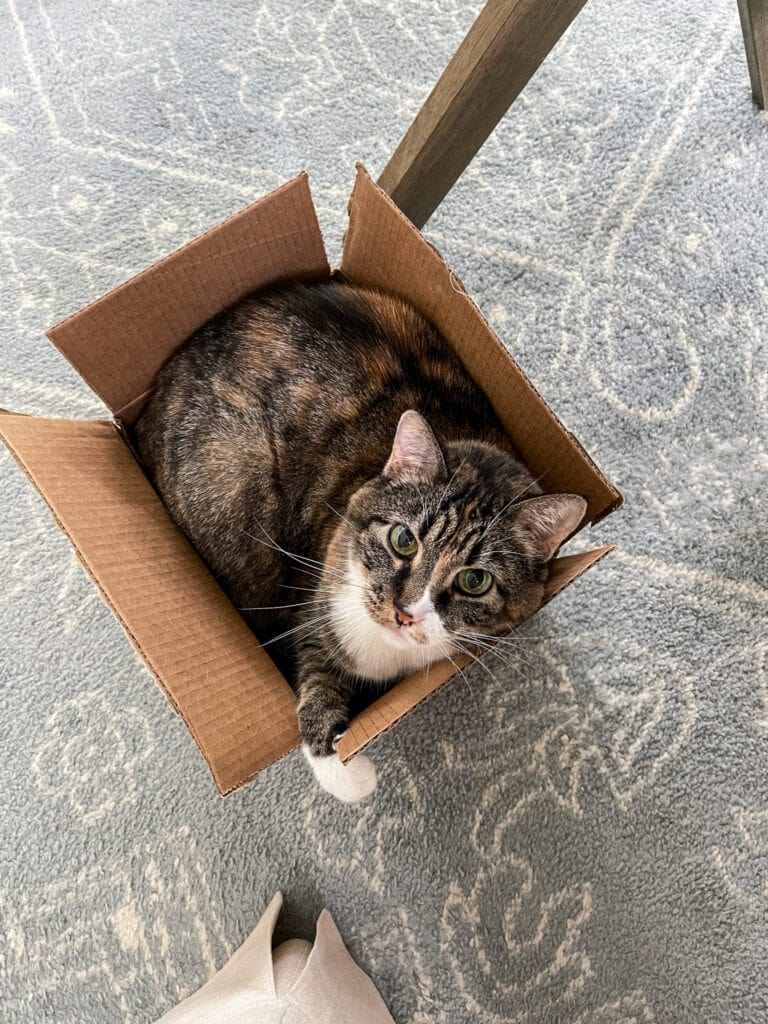 Not the most appetizing of images, but you know summertime is near when we start eating caprese salads for dinner. Kurtis also made some beef jerky for me on Sunday! I'm guessing at least three of the six pounds has already been eaten. Oops! My dad gave me permission to share his recipe, so I'll plan to share that soon!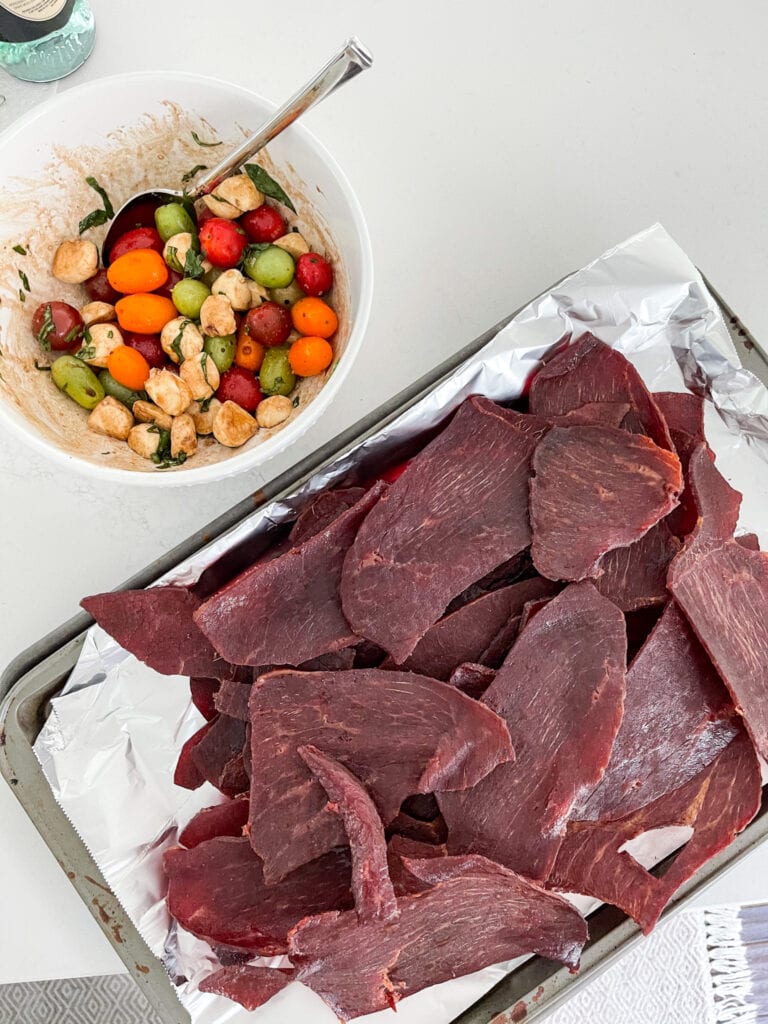 Our weather has been bizarro world this spring. We were able to swim the end of April, but then didn't get in the pool once the entire month of May. Kurtis found that to be unacceptable, so despite the only 72 degree air and 76 degree pool temps, he decided to jump in yesterday to make sure he swam in May 😉 It was actually beautiful for just lounging in a chair, so after cleaning the basement and getting some other tasks done, I planted myself in a chair and soaked up the sun! In looking at the forecast at the start of the weekend, we didn't think we'd have any pool days, so it was nice to end the weekend with that little surprise!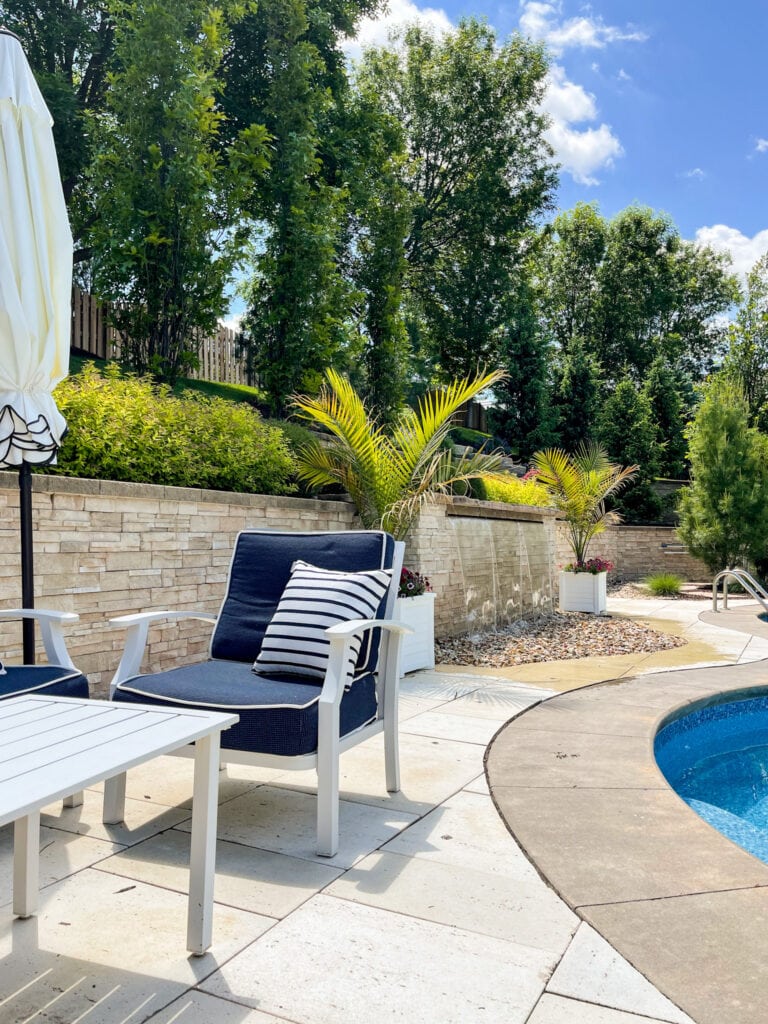 SOURCES: Scalloped Umbrella | Conversation Set | Striped Pillows | Planters
Our niece gets married this weekend so it should be a fun week ahead!
Recent Buys & Sales
Following are the sales from the weekend that are still going strong. You can see my top picks here.
AMAZON has a number of deals sitewide in the Daily Deals section. These pillow insert pairs I've been using lately have an 8% coupon you can clip as of the time of this post going live! Remember to order 2″ larger inserts than your pillow covers for the best designer look! I also have these striped pillow covers and they were already such a great price, but now there's an extra 5% coupon you can clip on the pair! They're such a great staple! These Lantern Pendant Lights come in four finishes and are a steal when you apply the extra 10% off coupon. Such a great designer look for less! You can shop their sales here.
AMERICAN EAGLE is offering 30% off skirts and shorts! You can shop their sale here.
ANN TAYLOR is offering an additional 60% off sale styles. You can shop their site here.
ANNIE SELKE is offering 20% off sitewide on in-stock products. Guys – that means Dash & Albert rugs are 20% off!! That hasn't happened for nearly two years now! I love their indoor/outdoor line because most of them are soft underfoot but can be hosed off or bleached if you need to clean them! You can shop their sale here.
ANTHROPOLOGIE is offering an extra 25% off sale items! No code required. You can shop their site here.
BALLARD DESIGNS is offering up to 20% off sitewide. You can shop their sale here.
BANANA REPUBLIC is offering 40% off your purchase plus an extra 10% off at checkout with code BREXTRA10. You can shop their sale here.
BODEN is offering 15% off full-priced items at checkout (no code required) and free shipping on orders of $49+. You can shop their site here.
GAP is offering 50% off tanks, tees, and dresses, 40% off everything else with code SUNSHINE, and an extra 10% off at checkout with code ADDON. You can shop their sale here.
HSN has a number of deals sitewide, including on our power washer and wet/dry vac we use on our hardwood floors (vacuums and mops at the same time)! Plus, if you're a new customer, you can use code HSN2021 for an additional $20 off a $40 item! You can shop their site here.
J CREW is offering 25% off full-priced items along with an extra 50% off sale styles with code WEEKEND. I wore this Puff Sleeve Eyelet Dress in navy blue to a wedding last weekend, and loved it so much! It fits true to size, but I went with the tall version because they were out of my regular size and loved the length on it! You can shop their sales here.
J CREW FACTORY is offering 40-70% off everything sitewide, plus get an extra 25% off on orders $100+ with code HOT! You can shop their sale here.
KIRKLAND'S is offering 25% off one regular priced item with code PICKONE25. You can shop their sale here.
LINDSAY LETTERS is offering 15% off sitewide at checkout! No code required. I love both her The Pledge of Allegiance Canvas and American Flag Abstract Art, especially in the summer months! You can shop her site here.
LULULEMON has a number of new items in their sale section, including some new Align and Wunder leggings! You can shop their sale here.
MARK & GRAHAM is hosting a Warehouse Sale with items marked up to 50% off sitewide! You can shop their site here.
MARSHALL's has a number of deals sitewide including new markdowns. You can shop their site here.
MICHAELS is offering 20% off all regular priced purchases with code 20MADEBYYOU, plus tons of deals sitewide! You can shop their site here.
NORDSTROM is hosting their Half-Yearly Sale with items marked up to 50% off, now through June 6! I have this V-Neck Jersey Maxi Dress in two colors and love how easy it is to not only pack, but to wear! You can shop their sale items here.
OLD NAVY is offering 25% off your purchase at checkout (no code required). You can shop their sale here.
ONE KINGS LANE is offering 20% off sitewide. Prices as marked – no code required. Plus, if you spend $600+, you can save an additional 10% with code OKLTAKE10. You can shop their site here.
OVERSTOCK is hosting their Memorial Day Blowout Sale with major discounts sitewide! You can shop their sale here.
POTTERY BARN is offering free shipping on orders $99+ with code FREESHIP. You can shop their sale here.
RIFLE PAPER CO. is offering 25% off your entire purchase (excluding wallpaper) with code BLOOM! They have such perfect items for graduation gifts, birthday gifts or a splurge for yourself! I basically want everything on their entire site 😉 But this Amalfi del Mar candle, their AirPods cases, iPhone cases, and these Hydrangea Vintage Champion d'Orsay Sneakers are a great place to start! You can shop their site here.
SAMSUNG has a number of offers for the weekend, including various package deals at 35% off on select stick vacuums. You can read my full review of ours here. You can shop their site here.
SERENA & LILY is offering 20% off sitewide with code DIVEIN! Be sure to check out my top picks in this post. You can shop their site here.
TARGET is offering up to 25% off select home items, including up to 15% off patio furniture, fire pits and accessories. You can shop their site here.
TJ MAXX is has a number of deals sitewide! I love this Pair of Table Lamps! You can shop their site here.
TORY BURCH has added a bunch new pieces to their sale section. You can shop their site here.
TUCKERNUCK has added some new sale pieces that are all darling per usual! You can shop their site here.
VANITY PLANET is offering 50% off sitewide with code VPA50. You can shop their sale here.
I hope you all have a great week!
If you would like to follow along on more of my home decor, DIY, lifestyle, travel and other posts, I'd love to have you follow me on any of the following:
Pinterest | Instagram | Facebook | Twitter
disclosure: some affiliate links used